Today, the Lush campaign returns to shop windows across the U.K.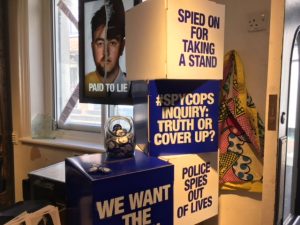 The decision to suspend the window campaign last Friday was made by Lush, for the safety and well-being of their staff. In some stores, they had been subjected to aggressive behaviour and verbal attacks from angry critics. Like other #spycops campaigners, we condemn the bullying and harassment of people in their work-places.
As we and Lush have been saying ever since Friday, "the conversation continues" – we are campaigning as hard as ever, and have been boosted by all the public support that we've received.
The manufactured 'controversy' led to Lush's latest window campaign becoming front-page news, and many more people learning about the shocking #spycops scandal for the very first time.
Continue reading "Lush has taken the critics by surprise" →