WELCOME
We support the legal actions, and participation in the Public Inquiry into Undercover Policing, by women affected by long term intimate relationships with undercover police officers who were infiltrating environmental and social justice campaign groups. Police Spies Out of Lives (PSOOL) is a campaigning support group working to achieve an end to the sexual and psychological abuse of campaigners and others by undercover police officers. We support the women affected by these issues to expose the immoral and unjustified practice of undercover relationships, and the institutional prejudices which have led to the abuse.
More information about us and where we stand
Donate to support us, and take action
---
GETTING OUR MESSAGE HEARD: SPYCOPS INQUIRY – May 2022
---
GIVE US OUR FILES! – May 2022
---
WE STILL WANT OUR FILES! – March 2022
---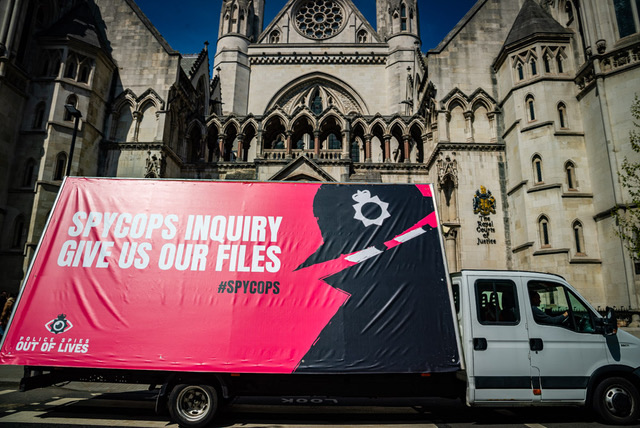 To draw attention to the hearings of the public inquiry into undercover policing in May 2021, we hired an advertising van to blazon our messages across London.
The 20 foot vehicle displayed two striking posters designed by Art Against Blacklisting and visited key venues including the Amba Hotel where the inquiry is being heard, the Houses of Parliament, the Home Office, the Royal Courts of Justice, the men only Garrick club (where inquiry chair Sir John Mitting is a member) and New Scotland Yard.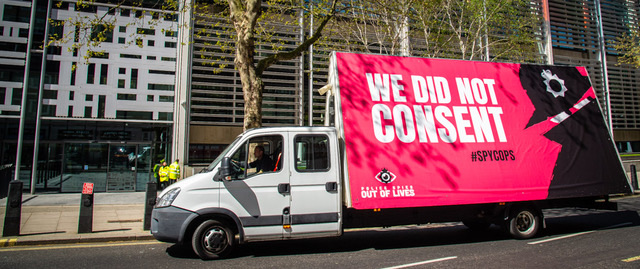 ---
PUBLIC INQUIRY HEARINGS BEGIN – Nov 2020
We are calling on the Chair of the Inquiry to ensure that his findings get to the truth about these deployments and that there is a finding of institutional sexism. The scope of these human rights abuses and how they were allowed to happen must be exposed if the government is to ensure they do not happen again.
We demand that the UCPI is a genuinely public inquiry with live streaming of evidence.
---
NEW SECTION OF WEBSITE ON CHIS ACT – October 2020
To avoid scrutiny and debate, the government is attempting to rush through Parliament its new, highly controversial CHIS bill. With information about this bill and our response, we have created a new section of our website here.
---
METROPOLITAN POLICE APOLOGY – November 2015
Despite this unprecedented apology given to the first eight women who brought a case against the police for these abusive deployments, the police continue to be obstructive and secretive in response to new claims. This apology now rings hollow.
---