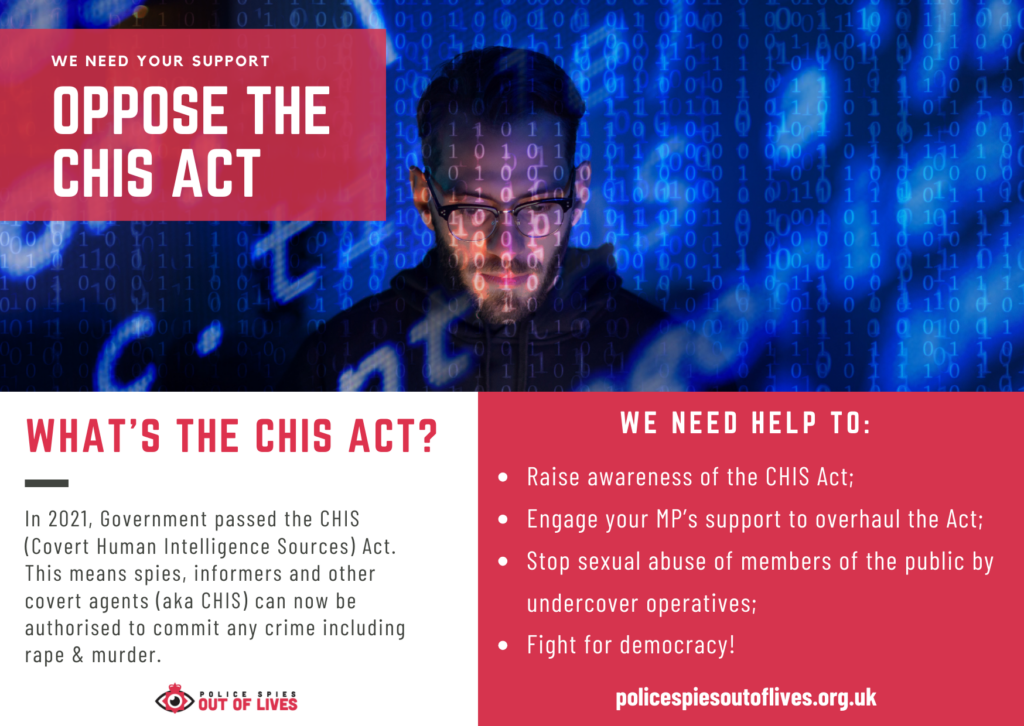 ONGOING CAMPAIGNS
Police Spies Out Of Lives campaigns for proper investigation of abuses by undercover police and for change to ensure they will never happen again in the future. We call for genuine accountability, transparency and responsibility by state and police.

Our main campaigning focus is around:
The government's new Covert Human Intelligence Sources (Criminal Conduct) Act 2021 has enshrined in law the very wrongdoing and criminality we have been fighting to legislate against. We are campaigning for changes to this law and for the following be included in amendments to the act:
"Officers are expressly forbidden from entering into intimate or sexual relationships whilst in their undercover persona."
We want the Public Inquiry into Undercover Policing to be a robust, transparent investigation into what has happened in British undercover policing over the last 50 years. Since 1968, top-secret political police units have been operating in Britain, spying on all forms of protest and political dissent. Additionally, undercover police have abused their positions in police forces other than the Metropolitan Police. We all want to see the documents held on us.
Institutional sexism is at the heart of these abusive undercover police deployments. Raising awareness of what this means, how it functions and how it impacts ordinary women is a key element of our work. We want a finding of Institutional Sexism in the final report (due 2026) from the Public Inquiry into Undercover Policing
CELEBRATE THE WINS
There have been significant gains. Among them have been a historic apology by the Metropolitan Police; the forcing of a Public Inquiry into undercover policing; the exposure of the identities and activities of some undercover police officers and a legal win by Kate Wilson in the Investigatory Powers Tribunal.
But there is still a lot to do. The UK government has not only failed to outlaw relationships between undercover officers and their targets but new cases are still emerging. The names of most undercover officers have not been revealed. Most material held by the police on those spied upon has not been released.
We can make those in power take responsibility. We can hold them to account. We can create lasting change.
---
Get involved however you can – write letters, get your trade union branch to affiliate, attend solidarity rallies and demonstrations, share information, talk about the issue, maintain the pressure.
Working together we can bring justice for those affected by undercover police, and create a future in which everyone is free from state-sponsored abuse.