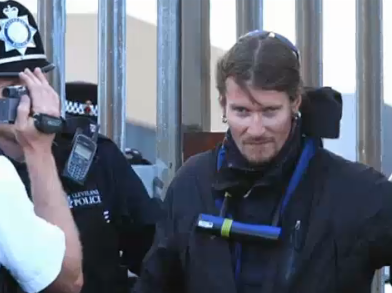 With thanks to June Kelly and BBC
Kate was one of the first  eight women who brought a claim against the police. In the early coverage of our cases, Kate was referred to as 'Lily'. In Summer 2015 she started to speak out under her real name in the hope of increasing public understanding of her experiences.
You can follow Kate on Twitter: @fruitbatmania
In September 2021, the Investigatory Powers Tribunal handed down its ruling in Kate Wilson's epic ten-year legal battle over the use of undercover police against protest movements. The detailed, ground-breaking, 156-page ruling identified a "formidable list" of breaches of fundamental human rights by the Metropolitan Police during operations which were without lawful justification in a democratic society.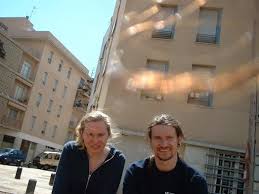 "In 2003 I met Mark Stone, at a meeting for the mobilisation against the G8 summit in 2005 in Scotland. He was charming and disarming. He shared my interests and my passion for the political things that we were doing. He told me lots of his most intimate stories and secrets. We became very close and we spent two years living together as lovers.
He became very close to my parents, and spent many nights in their home. He attended my grandmother's ninetieth birthday party. He met my entire extended family. Even after our relationship ended, we remained very close friends for many years.
In 2010 I received a phone call from friends in the UK who told me that this man Mark Stone, who I'd shared my life with, never existed.
The impact of that, the grief and the paranoia, and the sense of shame really paralysed me for a very, very long time.
The reason I first took legal action was really personal. Knowing Mark had not been who I thought he was, it was like a computer virus. It reached into the past and corrupted all my memories of those times, and it reached into the future to affect all the relationships that I've had since. I needed answers and bringing this case against the police was a way of fighting back, taking back control of the story of my life.
The other reason we brought the case was to try and make sure it didn't happen again. In the beginning, that meant that no other women should be abused in the way that we were, but it's got a lot broader than that, over time. The IPT ruling is not just about the relationship I was deceived into by Mark Kennedy. Five other undercover officers violated my privacy and political rights over a period of 12 years.
The finding that these operations were unlawful and breached our rights to freedom of expression amounts to a long overdue recognition that spying on protest movement is political policing and has no place in a democratic society. It is important, because it goes beyond the scandal of undercover officers deceiving women into intimate relationships. Violating our political rights was the entire reason for these deployments and thousands of people will have had their political rights violated in this way.
Kate at Chaos Communication Camp – 2015
---
More about Kate
Kate recorded an account of the background to her story.
March 2015 – she discovered that she remained the subject of intrusive, covert surveillance, finding a tracking device attached to her car whilst at a conference.
August 2015 – Kate took part in a presentation at the Chaos Communication Camp in Zehdenick, Germany. She starts to speak from 13'40" into the recording.
February 2016 – Kate spoke at the COPS conference, 'Voices of the Spied On'.
January 2017 – Kate settled the Civil Claim and began a further 4-year court battle in the Investigatory Powers Tribunal to hold the police to account for human rights abuses.
In 2018 the human rights case hit the news and Kate appeared on BBC Radio 4's 'Today' programme, following these admissions made by the Met.
Kate was forced to represent herself at the Tribunal for 12 months after the police's delaying tactics exhausted her funding for legal representation.
In April 2021, the week long hearings in Kate's IPT case began. Covered by BBC news.
Kate has authored a number of comment pieces for the Guardian, i-News and the Telegraph.
Kate's case has also received considerable international media coverage, including articles published in the USA, Germany, Spain, Catalonia, Portugal, Ireland, Denmark and Brazil.
In September 2021 – Kate won her case in IPT. The court ruled undercover policing operations against protest movements were 'unlawful and sexist' and in January 2022 she was awarded compensation and costs. Both rulings received extensive media coverage, including the following articles:
September 2021
https://sustainability.freshfields.com/post/102h7l7/specialist-human-rights-tribunal-gives-landmark-undercover-policing-judgment
https://www.theguardian.com/uk-news/2021/sep/30/activist-duped-into-sexual-relationship-with-spy-wins-case-against-met-police
https://www.dailymail.co.uk/news/article-10046205/Eco-warrior-wins-tribunal-case-against-Met-Police-relationship-undercover-police-officer.html
https://www.bbc.com/news/uk-england-nottinghamshire-58749590
https://news.sky.com/story/activist-deceived-into-relationship-with-undercover-officer-wins-tribunal-case-against-metropolitan-police-12422094
January 2022
https://www.standard.co.uk/news/uk/met-police-undercover-officer-kate-wilson-mark-kennedy-stone-b978619.html
https://www.bbc.com/news/uk-england-nottinghamshire-60132610
https://news.sky.com/story/environmental-activist-tricked-into-relationship-with-undercover-police-officer-mark-kennedy-gets-230-000-compensation-12525549
https://www.theguardian.com/uk-news/2022/jan/25/activist-deceived-relationship-met-police-officer-wins-compensation-kate-wilson
https://www.thetimes.co.uk/article/payout-for-activist-duped-by-undercover-police-th5jsschk
https://www.independent.co.uk/news/uk/crime/kate-wilson-mark-kennedy-investigatory-powers-tribunal-metropolitan-police-alan-pughsley-b2000118.html