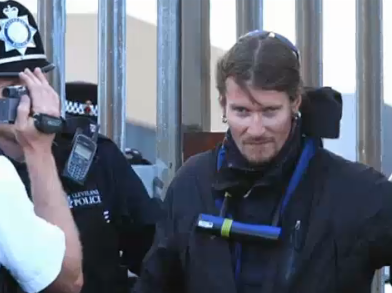 With thanks to June Kelly and BBC
Kate was previously referred to as 'Lily'. In Summer 2015 she started to speak out under her real name in the hope of increasing public understanding of her experiences. Kate was one of the eight women.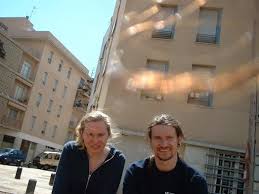 "In 2003 I met Mark Stone, at a meeting for the mobilisation against the G8 summit in 2005 in Scotland. He was charming and disarming. He shared my interests and my passion for the political things that we were doing. He told me lots of his most intimate stories and secrets. We became very close. We spent two years living together as lovers.
He became very close to my parents. He spent many nights in their home. He attended my grandmother's ninetieth birthday party. He met my entire extended family. We remained very close friends for many years after that.
In 2010 I received a phone call from friends in the UK who told me that this man Mark Stone, who I'd shared my life with, never existed.
The impact of that, the grief and the paranoia, and the sense of shame really paralysed me for a very, very long time.
The first reason [I am taking legal action] is really personal. The knowledge about Mark not being who I thought he was, was like a computer virus. It's corrupted all my memories of those times, and it affects all the relationships that I've had since.
I'm trying to fight back – bringing this case against the police was a way of taking back control of the story of my life.
The other reason we brought the case was to try and make sure it didn't happen again. In the beginning, this meant that no other women should be abused in the way that we were, but it's got a lot broader than that, over time. Now the thing that feels important, is that I want my files. I want them to fill in the gaps for all of those things where I don't know what was happening in my life.
They're not giving us that information. They're saying that this kind of undercover policing is somehow legitimate.
We have examples from history.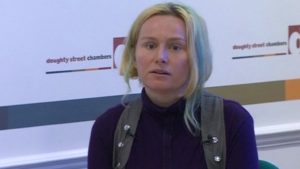 I was in Berlin, and that's somewhere where they actually decided what the undercover police were doing was not legitimate, and everybody was given access to their files. I would really like to see that change of attitude happening. There are no circumstances, and there is nothing that people could be doing, that I think justifies this kind of political policing. "
Kate at Chaos Communication Camp – 2015
---
More about Kate
Kate recorded an account of the background to her story.
March 2015 – she discovered that she remained the subject of intrusive, covert surveillance, finding a tracking device attached to her car whilst at a conference. You can read a report about this continued surveillance.
July 2015 – An article written by Kate and Lisa appeared in the Guardian on 28 July 2015.
August 2015 – Kate took part in a presentation at the Chaos Communication Camp in Zehdenick, Germany. She starts to speak from 13'40" into the recording.
February 2016 – Kate spoke at the COPS conference, 'Voices of the Spied On'.
June 2017 – Kate is currently trying to hold the police to account over human rights abuses committed against her .
September 2018 – The next hearing of Kate's case in the IPT will be on 3rd October, so we're calling out for a solidarity demo on that date. She will be speaking at this event that evening. She published this piece alongside another in the Guardian, and appeared on BBC Radio 4's 'Today' programme, talking about these admissions made by the Met.
April 2019 – Kate writes in The Guardian about Sir John Mitting's bias towards the police.
If you quote any of the above accounts, for articles, blogs, or academic research, please let us know. Please respect that while these words appear in the public domain, they belong to people who have had their private lives profoundly abused. Thank you.