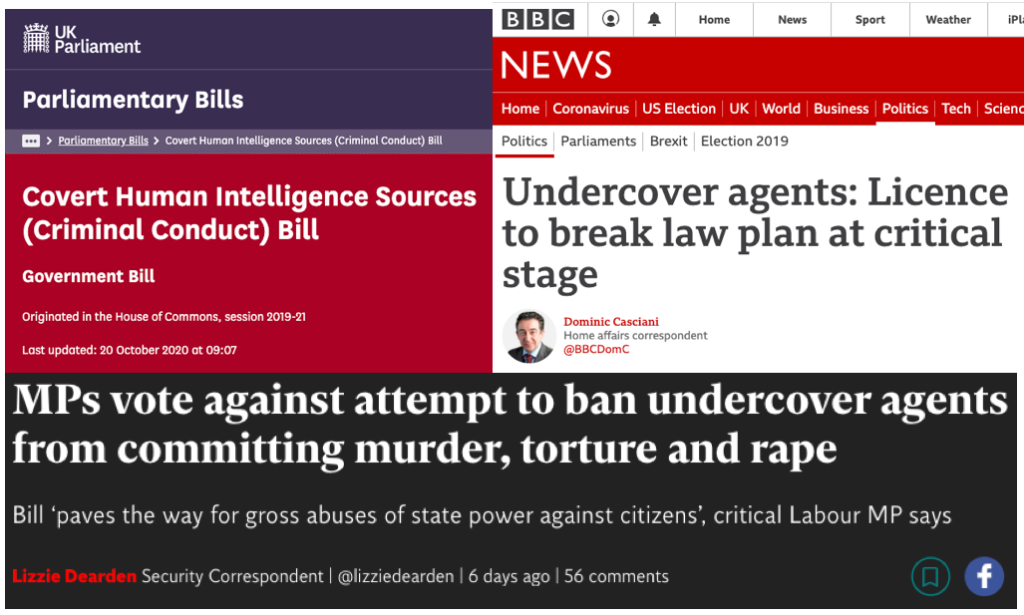 Since we first launched our civil cases against the Metropolitan police in 2011, it has become clear that undercover officers have used intimate, sexual relationships as a tactic to infiltrate target groups over a period of nearly fifty years.
We have campaigned using strategic litigation to draw public attention to this abusive practice and have argued for a parliamentary review of the Regulation of Investigatory Powers Act (RIPA) which has been insufficient to protect us.
In 2014 we made submissions to the consultation on new CHIS codes of Practice. In order to prevent repetition of the very serious human rights abuses we suffered, this included a request to add the following paragraph within the RIPA Codes of Practice:
"Officers are expressly forbidden from entering into intimate or sexual relationships whilst in their undercover persona."
The government's new Covert Human Intelligence Sources (Criminal Conduct) Act will enshrine in law the very wrongdoing and criminality we have been fighting to legislate against.
CHIS VIOLATIONS OF WOMEN'S HUMAN RIGHTS & THE LAW
By forming intimate, sexual relationships with us, these undercover police officers violated our human rights. In 2015, Metropolitan Police Assistant Commissioner Sir Martin Hewitt apologised to seven women saying "I acknowledge that these relationships were a violation of the women's human rights, an abuse of police power and caused significant trauma"[1]
Despite this, there is still no law that specifies that sexual relationships between CHIS and members of the public are prohibited. Without this specificity, interpretation of the law can be warped by institutional prejudice and discrimination.
The Human Rights Act became effective in 2000 in the UK. Mark Kennedy, Marco Jacobs, James Straven, Jim Boyling, Carlo Soracchi and Rob Harrison were all actively deployed undercover after 2000, conducting sexual relationships with women connected to their target groups. RIPA did not protect these women despite the Human Rights Act being in place.
Our civil cases have been forced to settle out of court and our criminal cases have been blocked by the CPS claiming these abusive relationships were based on 'genuine feelings'.
Only Kate Wilson has been able to pursue her case in the Investigatory Powers Tribunal to scrutinise Mark Kennedy's infiltration into her life and those of her friends. Having first admitted liability in response to Kate's Article 3 claim in 2017, the Met police are attempting to row back and withdraw their admission. Where they were once clear that authorisation was given for this relationship; they now are not so clear. Legal questions around necessity and proportionality of the operation are central to Kate's case and it is increasingly apparent that these deployments fail this test.
The current standard of testing for necessity and proportionality is insufficient, and without specific limits these crimes could be authorised again, even with this standard.
The fact that the police are incapable of stating clearly whether or not these relationships were authorised demonstrates the necessity for external oversight of any operations which interfere with people's human rights. It is not acceptable for the police and security services to be left to act not only as investigators, but as judge and jury as well.
This legislation reaches far wider than political activists. It puts at risk ordinary people who may think this act has nothing to do with them. It will enable an undercover officer to legally embark on an intimate, sexual relationship with any innocent person who happens to be of use. Maybe a woman living across the road from a pub where the criminal group meet? Perhaps the sister of one of the group? Ordinary women who would be written off, like us, as 'collateral intrusion'.
LEADING WOMEN'S RIGHTS ORGANISATIONS CALL ON PEERS TO RESIST DANGEROUS AND UNFETTERED POWERS IN CHIS ACT
The Centre for Women's Justice, End Violence Against Women, the Faith and VAWG Coalition, FiLiA, the Latin American Women's Rights Service, Rights of Women, Standing Together and Women's Aid have released a briefing urging peers to resist the dangerous and unfettered powers outlined in this Covert Human Intelligence Sources (Criminal Conduct) Act, which was debated in the House of Lords on 24 November 2020.
The act creates law to allow covert human intelligence agents to commit crimes with impunity, with no limitation on the severity of the crime and with all approvals granted internally. Furthermore, it restricts victim survivors of these offences from seeking redress in the criminal or civil courts. Read more here.
RIGHT TO REDRESS
The act will deny complainants like us any right to redress, since authorised conduct will be made 'lawful for all purposes', even where authorisations are exposed to have been wrongly issued. The legal redress some of us have received has been hard won and deserved. It doesn't replace the years of trauma or loss of opportunity to have children but it has at least been some recognition of what we experienced. Many women affected are still fighting difficult civil claims. The idea that women in the future who were to find themselves in our situation have no access to legal redress – however difficult such litigation might be – is undemocratic and unjust.
UNDERCOVER POLICING PUBLIC INQUIRY
On November 2nd and after more than five years since it was established, the Undercover Policing Public Inquiry begins. Due to Covid-19, there are restrictions on public access to the Inquiry. This has compounded a process that is already highly restrictive and secretive in response to the national security concerns asserted by the police.
This inquiry came about as a direct result of the exposure of CHIS wrongdoing by campaigners and journalists and there is significant public interest in being able to watch the proceedings.
Core participants have been told there will not be a live stream of evidence, without which public access and media interest is compromised. It is unquestionable that during the Inquiry there will be evidence of significant public interest; evidence from core participants that will shine a light on the impact on the lives of members of the public at the hands of state operatives – otherwise known as CHIS. These powerful stories will be rendered dry and difficult to access via a lengthy, daily transcript.
The CHIS act has been rushed through parliament in an unusually speedy fashion. It feel as if the goalposts have been moved, and that parliament has signalled that the findings and recommendations of the Public Inquiry will not matter.
INSTITUTIONAL SEXISM & ACCOUNTABILITY
Our experience has given us insight into the misogynistic world of police covert operations. By sharing our stories with one another, we pieced together a clear picture of institutional sexism, and the apparent widespread assumption by officers that it was acceptable to use women as dispensable props to shore up their fake identities. This culture will impact on the attitudes and behaviours of all undercover units not just those which infiltrate political groups.
The secrecy of undercover work lends itself to abuse since much 'intelligence gathering' information about the deployment will generally never be revealed or tested in a court of law. The actions of officers in the SDS and NPOIU demonstrate how apparently difficult it is for covert deployments to be effectively managed and overseen to avoid such human rights violations.
If the CHIS relationships with us were authorised, the deployments failed the proportionality and necessity test. And if the relationships were not authorised, the operations lacked management and oversight. Either way, despite decades of collective experience in Special Branch, it appears nobody within the ranks had thought to draw attention to how their officers' actions breached human rights laws, until we brought it to public attention in 2011.
There is no evidence that the security services community – including Special Branch, MI5 and MI6 – and their custom and practice has received such a fundamental, root and branch overhaul since then.
LIMITS TO AUTHORISATIONS
Legislation must include limits to authorised criminal acts. The argument that such specificity creates a check list for criminals to test a suspected informant is not tenable. CHIS already have the defence of necessity for such circumstances, and we have outlined in the past several possible options to avoid sexual relationships, including that having been used in one instance we know of by the police of deploying a 'fake' partner.
We welcome the cross-party amendments protecting the sexual integrity of a person.[2]
Additionally, we urged the following be included in amendments to the act:
"Officers are expressly forbidden from entering into intimate or sexual relationships whilst in their undercover persona."
CONCLUSION
With this act, state operatives will become officially above the law. The abuses they have perpetrated against women like us will continue to be sanctioned and authorised. A society that allows for authorised murder, sexual violence and torture is one that is brutalised and desensitised to violence.
This act fundamentally undermines human rights and must be challenged. Please bring raise this with your union branch using this model motion.
FURTHER INFORMATION
PSOOL Open Letter to Security Minister James Brokenshire about CHIS bill.
House of Commons Library Briefing Paper Number 8660, 13 September 2019 Undercover policing in England and Wales By Joanna Dawson, Jennifer Brown (attached). Please note, this document was downloaded from https://researchbriefings.parliament.uk/ in September 2019 but has since become available. We are interested to know why it was removed.
---
[1] https://www.bbc.co.uk/news/uk-34875197
[2] https://publications.parliament.uk/pa/bills/cbill/58-01/0188/amend/covert_rm_cwh_1012.pdf p.5 [Cross-party amendment to put express limits in the Bill – Insertions to Clause 1, page 2, line 36]