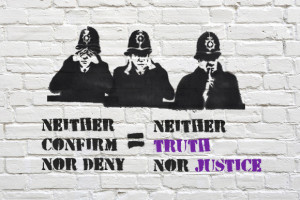 Police Spies Out of Lives was established by the first eight women to bring a legal case against the Met police in 2011 for being deceived into intimate, sexual relationships with undercover police officers. It is a campaigning, support group for women affected by these relationships.
The cases we support take place within a wider context of public concern about undercover policing and the culture and actions of the Metropolitan police in regards to women in general.
Alongside the issue of undercover relationships, which is covered in depth on this website, there are numerous issues which have raised concern and alarm across the political spectrum. Evidence suggests both the officers and command units of undercover police have become corrupt, serving corporate interests rather than the public interest, and that the premise of their role is problematic. In addition to this, the issue of institutional sexism and misogyny in the police has received more public attention since our cases first hit the news – particularly since the terrifying case of Sarah Everard.
Since the revelations first exposed by women in our campaign, we now know that officers adopted the identities of dead children and lied their way into the heart of protest groups. They spied on anyone and everyone who was involved in political dissent or who posed a threat to the reputation of the police; they spied on the families of those people; they formed intimate, sexual relationships and lived with women for years, even proposing marriage or fathering children before disappearing; they provided intelligence in secret that led to hundreds of people being wrongfully convicted; and they worked with private companies to create illegal blacklists, ensuring political activists could not find work.  
The context in which undercover abuse and corruption has taken place is one in which successive UK governments from 1968 to the present undermine democracy by criminalising dissent and discouraging citizens from organising for social and environmental justice.
"We are united in believing that every woman, and every person, has a right to participate in the struggle for social and environmental justice, without fear of persecution, objectification, or interference in their lives."
– from Where We Stand
OUR ALLIES
COPS – Campaign Opposing Police Surveillance : An alliance of people spied on by Britain's political secret police.
Blacklist Support Group : Supporting trade unionists who were spied on by undercover police officers, and blacklisted by major construction companies as a result.
Undercover Research Group : Investigating political policing, spying on activists and the undermining of dissent.
The Monitoring Group: a community based, anti-racist collective to eradicate racism and exploitation in our society.
> Add your voice to the calls for change
> Back to Home