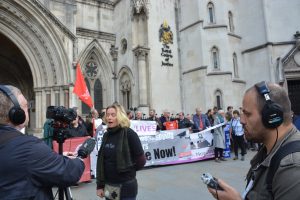 Today in the Investigatory Powers Tribunal (IPT) [1], the police failed in their attempt to close down Kate Wilson's [2] human rights claim [3] about secret political policing and her relationship with the undercover officer, Mark Kennedy.
This was the police's fourth failed application to limit the extent of the IPT investigation. After seven years of litigation, they still haven't answered the detailed claims made.
The IPT panel, headed by Lord Justice Singh, ordered the police to provide a fully pleaded defence to all aspects of the claim, supported by witness evidence, within three months [4].
Significantly, the panel also want to examine the legality of the operations of all the officers who spied on Ms Wilson, and has ordered the police to present full background documentation and explanations of the process of their authorisations.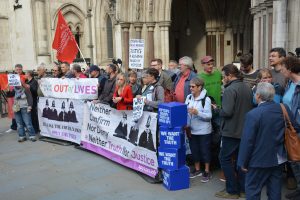 These rulings were a response to detailed statements provided by Ms Wilson and her legal team following sight of a 200-page sample of the 10,000 pages of documents containing her name that the police claim to have in their possession.
Exerts from her statement accompany this press release and are linked to letters below. The revelations include the following:
1) Ms Wilson was a named target of the undercover operation [a].
2) Mr Kennedy did not feel the need to hide the nature of their relationship, suggesting it was approved, and recorded in incredible detail their life together, such as shared theatre trips [c], and a week long holiday in the Lake District [d].
3) The recorded surveillance of Ms Wilson's life was hugely disproportionate and intrusive – from recording details of her and Mark attending a charity carol singing concert organised by her mother [e], to details of her mother's bad back [e], their shared museum visits [f], and 11 occasions' when he stayed at her family home [b].
4) Mr Kennedy's managers took active steps, spending public money, to increase the emotional bond, for example gifting Ms Wilson a bike in order to "facilitate ease of travel around and also maintain contact"[g]
5) The police were directly manipulating Ms Wilson's political activity and breaching her human rights to freedom of association and freedom of expression in ways that go far beyond Mark's sexual conduct. These include authorising Mr Kennedy to lend her money to attend political events in order to "raise UCO's standing with her and allow her to socialise during visit thereby affording UCO more opportunities to develop new contacts."[h], and undermining her political projects like her plan to work with refugees on the Thai-Burmese border [i].
Ms Wilson said:
"I welcome the Tribunal's decision to continue to investigate the as yet unanswered questions in this case, such as how far up the hierarchy knowledge of our relationship went, whether sex was used as a infiltration tactic, why I was targeted, the institutionally sexist attitudes that underlie those actions, and whether this type of extensive and deep infiltration of activists' lives is a legitimate tactic at all. We hope (against hope) that the police will finally see fit to comply with their duty of candour and cooperation and provide a substantive and factual response to our claim"
Notes to editors
1] https://policespiesoutoflives.org.uk/ipt/
2] Kate Wilson, is a social and environmental justice campaigner, who had a two-year intimate sexual relationship with Mr Kennedy. https://policespiesoutoflives.org.uk/our-stories/kates-story/
3] In this case the police have admitted abuse of four of Ms Wilsons human rights (https://www.thejusticegap.com/17885-2/) and that Undercover Officer Mark Kennedy's managers knew about the sexual relationship and allowed it to continue (https://www.theguardian.com/uk-news/2018/sep/21/met-bosses-knew-of-relationship-deception-by-police-spy-mark-kennedy).
4] The Judge ordered that the Police must now disclose evidence, such that the Tribunal can discover the extent of senior officers' involvement in the abuse; assess the lawfulness of the involvement of at least seven other undercover police officers in her life; and assess whether such intrusion violated the principle that human rights should be enjoyed by all, without discrimination on grounds of sex or political beliefs.
Police fail to close down undercover relationship case following new revelations