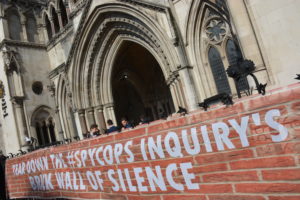 Today, three victims of undercover policing were dismayed to learn that that they have been denied permission to proceed with their Judicial Review against the Home Secretary's decision not to appoint additional panel members to sit alongside Sir John Mitting in the first stages of the Undercover Policing Inquiry.i
Handing down judgement this morning, Mr Justice Supperstone ruled that there had been no material developments which required the Home Secretary to reconsider the decision.
John Burke- Monerville, who was spied upon by undercover officers after he established a justice campaign for his son, Trevor, who was seriously injured while in police custody, expressed his disbelief,
"I am very disappointed in this decision. I find it unbelievable that the judge doesn't think it's relevant that the Chair says he "doesn't see colour." My family have suffered so much at the hands of state institutions because of the colour of our skin – my son was badly attacked in police custody, my mother was assaulted on the pavement outside her house, both my parents were wrongfully arrested and maliciously prosecuted, and the police failed to properly investigate the murder of two of my sons. I'm forced to see colour every day."
Jessica, who was deceived into an intimate relationship with an undercover officer, said:
"Since the Home Secretary made the decision, it's become even clearer that the Chair doesn't understand core issues in this Inquiry – he's said he has no training in discrimination and has effectively admitted that he doesn't understand institutional racism. How can the judge say that these aren't factors the Home Secretary needs to consider when deciding whether the Chair has the expertise needed? This is another missed opportunity to make this an accountable process which will give us the answers that we were promised."
The three Claimantsii insist that the Inquiry requires a diverse, balanced panel to ensure it has the necessary expertise to properly examine the complicated issues – including institutional sexism and institutional racism – at the heart of the spycops scandal.
In March, the then Home Secretary, Amber Rudd, decided not to appoint additional panel members to the Inquiry.iii
The Claimants argued that the Home Secretary was under a duty to reconsider this decision in light of new information. This new information included the Chair's decisions to hold much of the Inquiry in closed session, excluding both victims of undercover policing and the public, as well as a number of concerning comments made by the Chair during meetings with victims of undercover policing which further called into question his ability to carry out an effective investigation in relation to issues of sex, race, class and discrimination.
In particular, the Chair's comments made it clear that:
He has never undertaken any training in discrimination; and

He does not agree with the Macpherson definition of institutional racism, particularly issues of unconscious race discrimination.iv
Despite this, Mr Justice Supperstone, ruled that there had been no material developments since the March decision which required a fresh decision or a reconsideration under the Public Sector Equality Duty.
Harriet Wistrich at Birnberg Peirce, said,
"When the then Home Secretary, Theresa May, announced the setting up of a public Inquiry into undercover policing, it was in response to revelations about undercover police spying on the Lawrence family and of officers deceiving women into long term intimate sexual relationships.
Issues of institutionalised racism and sexism therefore go to the heart of this inquiry and it is critical that the chair has a clear understanding of these issues in order to ensure that the Inquiry is not a wasted opportunity.
Whilst no criticism is made of Sir John Mitting's legal expertise, an understanding of issues of racism and sexism requires a different type of expertise. Sadly comments made by him to the Claimants and other core participants undermines their faith that he has an understanding of these critical issues."
i This is a legal challenge of the Home Secretary's refusal to appoint additional panel members at this stage of the Undercover Policing Inquiry (UCPI). 'Core Participants' have been campaigning for a Panel since the Inquiry began, back in 2015, but even more fervently since Sir John Mitting's appointment as Chair in the summer of 2017. The Inquiry published a 'Strategic Review' on 10th May, saying that a Panel would be brought in, but only for the very last section of the Inquiry, 'Module 3', in 2022.
Sir John Mitting's approach to the Inquiry has caused significant concern to many of those designated as core participants in the Inquiry. This concern culminated in core participants walking out of a key hearing in March 2018 in protest. Since that time Sir John Mitting's actions have done nothing to relieve these concerns.
ii The Claimants in the case are:
The family of Jean Charles de Menezes, the young, innocent Brazilian man gunned down at Stockwell tube station on 22 July 2005;

'

Jessica' (a pseudonym), who was an, inexperienced, vulnerable 19 year old girl with a love of animals when she had her first real sexual relationship with an undercover police officer posing as an animal rights activist; and

John Burke-Monerville, whose 19 year old son, Trevor, was held at Stoke Newington police station in 1987 during which time his family believe he was beaten and in consequence suffered brain damage and started a Justice for Trevor

campaign

which was subject to secret surveillance.

Trevor was subsequently murdered, but the police failed to identify any perpetrators

.
iii In a letter dated 2 March 2018, Amber Rudd stated that she was satisfied that "the Inquiry has the resources and expertise necessary to deliver its current programme of work. Sir John Mitting is an extremely experienced High Court judge, has demonstrated his fairness and independence throughout his career, and he has my full support."
iv These comments are set out in detail in a witness statement of Harriet Wistrich, a solicitor for the Claimants. Key extracts of this statement are set out in Appendix 1.
Legal challenge vs the Home Secretary refused permission