Helen Steel confronted former partner John Dines in Australia
Statement read out in NSW parliament re Dines' police training role
Fear that former officers are teaching human rights abuses to new police recruits worldwide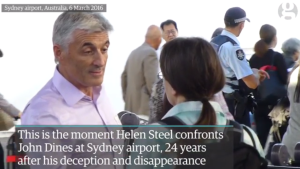 The campaigner Helen Steel (interviewed here by the Guardian) this week confronted her former partner and former undercover Met officer John Dines. Steel had flown to Australia, where Dines now has a role teaching police officers. David Shoebridge, Member of the New South Wales Legislative Council, today made a statement explaining Dines' former undercover role to the parliament, and expressing grave concern about the educational position he now holds.
Dines was a member of the Special Demonstration Squad which infiltrated political groups, and is one of several officers known to have deceived women into relationships – a practice which took place over decades, and which it is feared may still be taking place. He currently teaches at the Australian graduate School of Policing and Security at the Charles Sturt University.
Last November the Metropolitan Police apologised to Dines' former partner, Helen Steel, and six of her fellow claimants, over the damage caused by the relationships, settling the second case of its kind. In January the Met withdrew their defence claims of "deceit, assault, misfeasance in public office and negligence" in a further case. Judgment was entered against the force, but it refused to disclose details of how the abuse came about. Other cases are ongoing. None of the officers nor their handlers have yet been held accountable, and both the Met and the Home Office are requesting high levels of secrecy in the upcoming Public Inquiry into Undercover Policing, including an upholding of the contested "Neither Confirm Nor Deny" so-called policy.
In the statement to NSW Legislative Council, Helen Steel was quoted:
"I certainly feel violated by what they have done. It's about power. We didn't consent, and wouldn't have consented if we had known who they were. They've allowed this to happen in a unit of mainly male officers, in a culture where sexism is undoubtedly at play. Politicians and police officers have tried to justify it on the basis that it's 'necessary', or that we deserved it in some way … The whole thing just demonstrates institutional sexism."
David Shoebridge MLC said:
"It is offensive in the extreme that John Dines can be involved in teaching […] police in this State. This is a man who professionally and systematically abused human rights as a police officer in the UK and showed a culpable lack of gender sensitivity. He has no place teaching police in NSW or in any country that says it respects human rights. We need to ensure that similar abusive political undercover policing tactics are not replicated here or abroad. […] Dines must cease any involvement with teaching police in this state, before a similar apology [to the Met's] is needed by the NSW Police."
Further info:
Full statement by David Shoebridge here.
For details of Helen Steel's confrontation, including video, see the Guardian's report.
Met apology and women's statements from November 2015. LINK
Met withdraw defence, judgment entered against them, from January 2016.
The hearing to consider secrecy requests for the Public Inquiry into Undercover Policing takes place on March 22 and 23 – demo info here, and solidarity call here.
Former undercover confronted over relationship; revealed to be training police in Australia