Cardiff Against Police Spies have issued the following call for solidarity: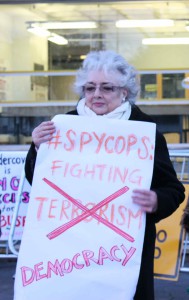 The police have requested massive secrecy for the public inquiry into the wrongdoings of undercover operations. They don't want to let abuse of the public become public. They don't want to be held accountable.
As those most affected deal with the latest legal paperwork over something that should never have happened, we call on our friends to share a gesture of solidarity in the fight.
WHEN between NOW and the secrecy hearing on 22 and 23 March
WHERE anywhere, or go somewhere prominent in your local area – your town hall, local landmark, village sign, train station
WHAT hold up a sign or a banner protesting the #spycops secrecy, demanding they #ComeClean, and take a photo. If you've got a landmark in, it's #Yourtown against #spycops injustices.
SHARE on social media – use #spycops #ComeClean
Do it as soon as you think of it, go with your mates, go with your group after your latest meeting, go with your kids or your gran. No gesture too small. One person in Smethwyck-by-the-Pond showing that they want the police to COME CLEAN is one more person insisting that the public inquiry be PUBLIC.
Spycops abuse could have happened to any of us. It affects all of us.
In thanks and solidarity, Cardiff Against Police Spies
For details about the demonstration at the secrecy hearing see Campaign against Police Surveillance
Call for solidarity against police secrecy