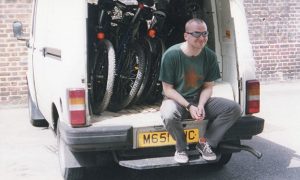 An important Judicial Review hearing to consider the decision by the Crown Prosecution Service not to prosecute former undercover police officer Jim Boyling in respect of his deceitful sexual relationship with an environmental activist will be heard on 13th and 14th November in the Royal Courts of Justice.
The claimant, granted anonymity by the Undercover Policing Inquiry, goes under the pseudonym of 'Monica' and was deceived into a relationship by Boyling in 1997.
Monica was the first of three women involved in 'Reclaim the Streets' with whom Boyling formed long term intimate sexual relationships. Boyling, who claimed to be a van driver and used the cover name Jim Sutton, played a key role in a number of 'actions'.
Monica's legal team argues that, contrary to arguments put forward by the CPS, the disgraced former undercover officer should have been prosecuted under the Sexual Offences Act 1956, and been charged with Misconduct in Public Office.
Boyling is now represented as an Interested Party and will be making submissions opposing our case.
The CPS previously decided not to prosecute following a lengthy investigation into Boyling's conduct arising from a formal complaint made by the third woman 'Rosa', whose relationship commenced in 1999.
Monica will also seek to challenge the CPS conclusion that Boyling cannot be prosecuted for misconduct in public office despite the fulsome apology from the police that such relationships were and abuse and would never be authorised and despite the subsequent findings that Boyling dismissed by the police for gross misconduct.
'Monica' said:
"I am heartened by our progress with this Judicial Review. I am challenging this decision on behalf of all the women who have been deceived into intimate relationships with undercover officers. Relationships in which we gave the best of ourselves to people whose sole purpose was to deceive.
I brought this case because the reasons that the DPP gave for not prosecuting Boyling are symptomatic of the institutional sexism at the heart of our public institutions. The DPP negated my right to know whom I was actually sharing my life with. It is sickening that they have prioritised Boyling's 'right' to have sex with me and other women in order to maintain his cover, or satisfy his sexual needs. Further, the possibility that Boyling may have had 'genuine feelings' was considered more important than my freedom to choose who I was intimate with.
If I had known that Boyling was a serving MPS officer, paid to deceive, control and manipulate the environmental direct action group of which I was part I could never have consented to sexual intimacy with such an individual.
I have brought this action, with the support of my legal team, to encourage an honest appraisal of the facts. It is time to make a stand, to say that this behaviour is no longer acceptable."
Monica's lawyer Harriet Wistrich of Birnberg Peirce said:
"The law on deceit around consent in sexual relationships is unclear and inconsistent. On the one hand young women with mental health problems are prosecuted and imprisoned for deceiving as to gender, on the other hand an officer who constructs an entirely false persona and enters into long-term intimate and sexual relationships in order to spy has committed no offence. This will be an important opportunity to clarify the law."
in November 2015 the Metropolitan Police issued an historic public apology, in which it was acknowledged that relationships between undercover police and their targets were "abusive, deceitful, manipulative and wrong…a violation of the women's human rights, an abuse of police power and caused significant trauma."
The apology stated that these relationships were not authorised, and never would be. The CPS refusal to prosecute clearly flies in the face of this.
This case raises really important points of law in relation to our understanding of what amounts to consent in sexual relationships. We are pleased that the courts will be looking at this area of law in relation to the acts of undercover officers deliberately deceiving women they are spying on.
---
There will be a demonstration outside the Royal Courts of Justice at 9:30am on the morning of November 13th. Further details can be found here.
Another Judicial Review hearing next week