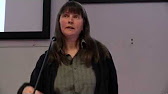 A brand-new short film from Police Spies Out of Lives made with the help of Reel News. It will be launched at 12noon on Wednesday 8th February simultaneously here on our website and live at the Lush Summit in London.
On Thursday 9th February, the Human Rights room at the Lush Summit will host an hour-long session (also at 12 noon) with two women, Alison & Andrea, talking about their personal experiences of relationships with #spycops.
The Lush Summit takes place at the Leathermarket building in East London. Entry is free, but you need to register The Human Rights room is one of many showcasing the work done by various campaign groups that Lush has supported financially; the others include Animal Rights and Environmental campaigns.
Thank you to REELNEWS and Lush for their continued support.
Coming this week: Film and talks