Sir Pitchford (the first Chair of the Undercover Policing Inquiry) announced this "strategic review" over a year ago, once it had become clear that the Inquiry would take longer than the three years originally estimated for it.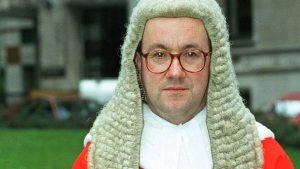 We have waited until today to learn of the Review's contents. In his foreword, the current Chair of the Inquiry, Sir John Mitting, tells us that this is not a consultation document; he has very little interest in consulting us or listening to what we say.
He goes on to tell us that even if we, the Non-State Core Participants, decide not to participate any further in the process, "the Inquiry will get as close to the truth as it can without them".
He doesn't understand that our input is essential for the truth to come out; without us, he's relying on the stories of trained liars and manipulators to work out what really happened. The only people who have been willing to speak out honestly about undercover policing have been us, the victims of these units, and one whistle-blower, Peter Francis.
He joined us in boycotting yesterday's hearing. It was attended only by the State's lawyers, and was over in less than six minutes.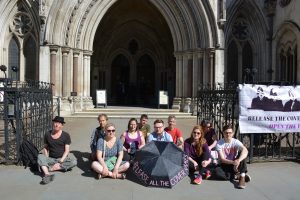 From the transcript, it appears to have been little more than a cosy chat between men who share a similar outlook – as Tom Fowler put it: "largely a friendly private discussion between two men of similar social class, career & life experience."
Helen Steel said she was boycotting yesterday's hearing because there was "little point in going, with a judge who thinks the privacy & mental health of the spy-cops is more important than the privacy & mental health of those spied on, and also thinks married men are unlikely to commit abuse".
After seeing the transcript, she said that yet again, "the Inquiry is relying on the word of those who are under investigation, rather than enabling, and ensuring the involvement of, those who were spied on. It is a farce".
"The Chair seems to be contemptuous of victims of police spying. He acts as if we are just bystanders in this Inquiry – he expects us to provide evidence relating to the most intimate aspects of our lives without providing any disclosure to us of the files kept on us by the police, even though those files were compiled years ago, so any claims about 'security' are entirely spurious"
She reminded us that "Victims of this secret political policing have repeatedly called for the release of the cover names, and the list of over 1000 groups known to have been spied upon, so witnesses can come forward to give evidence about that spying, and the impact it had on their lives and on campaigns, and so ultimately on democracy."
'Jessica' pointed out: "We know there are other women out there who were deceived in the same way as us, but without the names being revealed, they will not learn what happened to them".
'Jessica' said today: "I am seriously considering whether or not it's worth participating any longer in this farce. This report makes for demoralising, depressing, reading for those of us who have battled for so long for the truth to come out".
She asks: "Are we being punished for pointing out Mitting's inadequacies and poor decisions?"
Others wonder if Sir Mitting was embarrassed by this week's coverage in the Times newspaper, which highlighted the problems faced by the Inquiry, and the very public loss of faith in Mitting's ability and suitability.
"People are very unhappy with the current situation and trust in the inquiry Chair, Judge John Mitting, is at rock bottom." tweeted one core participant yesterday.
"Mitting has no relevant life experience. I find today's report extraordinary, as is his assumption that this Inquiry can continue without the active participation of those with most knowledge and personal experience" said another core participant.
"Virtually all of the information that has come out during the last two years has been due to the efforts of the people spied upon, activist researchers and sympathetic journalists." added Dave Morris.
"I think Mitting has taken the view that the Inquiry will function much more smoothly without the public making it all awkward" said someone else who had been a regular attendee at previous hearings.
'Andrea' said: "I am dismayed by this 'Strategic Review': the final report is now scheduled to be published in 2023, nine years after the Inquiry was set up and over five years after it should have concluded".
Speaking as one of the women deceived into a long-term relationship, she said: "We have lost years of our lives, due to the harm caused to us by these undercover officers; our health, relationships and careers have suffered; we want to participate fully, because without the truth we cannot heal. And we want to make sure this state-sponsored abuse cannot happen again."
She went on to say: "We need a panel and we need it now. We have repeatedly called for a panel, which Mitting now says will only be appointed for the final 'Module' of the inquiry (into the future of undercover operations) at the end of 2021. We feel that a panel is needed now as a matter of urgency, otherwise the inquiry will fail to achieve its purpose – i.e. uncovering the truth."
"So far, over £10.5 million has been spent on what seems like a vastly expensive cover up. I would like to know how much of this has been spent on the process of securing MPS anonymity and their weighty legal resources?"
"Sir John believes that he can forge ahead without our participation. This fundamentally misses the point. We, the victims, should be at the centre of this Inquiry, not pushed to the periphery, poorly resourced and unable to meaningfully participate."
The Network for Police Monitoring said: "Today's published strategic review still completely fails to understand that testimony from those targeted is essential, not incidental, to the inquiry's success. Inquiry chair Sir John Mitting continues to ignore concerns of campaigners whose lives were disrupted by spycops, the reasons why hearings were boycotted and why granting anonymity to most former officers is disastrous."
Donal O'Driscoll, another of the core participants, published a lengthy statement today: "Sadly, it seems to me that Mitting is squandering a huge opportunity, to bring those most deeply affected closer to the process, to build on their insight to help shape the Inquiry in a more effective manner, to get to the truth more quickly, more effectively and with more transparency."
"The other aspect is that there was a systemic targeting by secret police units on the fundamental right to protest, sanctioned at the highest level. This was a large-scale attack on democracy by the police fueled in part by racism and despising of working class struggles, something Mitting has not grasped. The police he so readily accepts the words of are same police that thought nothing of sending in officers to directly target family justice campaigns and derail justice – work that helped the police avoid accountability whether around deaths in custody or not investigating racist killings properly. Yet more lives were ruined by Special Branch facilitation of blacklisting. If the Chair cannot grasp the pain and suffering caused by all this and the need to place it near the centre of his decision-making he cannot be the right man for the job."
A letter was hand-delivered to the previous Home Secretary during her last week in officer, and a copy sent to the new Home Secretary, Sajid Javid, on his very first day in office, requesting an urgent meeting to address these concerns. He has not responded to this yet. The Home Office have been asked for comment, but not provided any as yet.
Letter delivered to the Home Secretary by Neville Lawrence and others
Inquiry's 'Strategic Review' published today