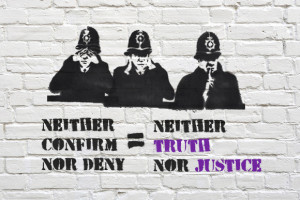 On April 5th, there will be a preliminary hearing for the Undercover Policing Inquiry, where the Metropolitan Police Service argue for further delays to the Inquiry and to reduce its scope. This is simply the latest attempt by the police to prevent information coming to light about their abusive undercover policing tactics. To illuminate this pattern of avoiding accountability and disclosure of any information about their shady practices, today we are publishing a briefing on their tactic of 'Neither Confirm nor deny.'
To support the fight back against police secrecy, come to the demo on April 5th.
The Metropolitan Police Service (MPS) state they have a 'policy' of 'Neither Confirm Nor Deny' (NCND) in relation to undercover officers. This means that when asked whether one of their officers is an undercover, they reply to the effect of "We can neither confirm nor deny that XXXX was an undercover officer".
NCND is first and foremost a stance adopted by the security and intelligence services whose officials are deployed in intelligence gathering operations. It doesn't have any legal standing. The police's use of it is much more recent, and no evidence has been presented of it as a written MPS policy, despite being ordered to present it by a court.
Pitchford has refused to allow a blanket application of NCND in the Inquiry, and instead has insisted on looking individually at each situation where the police are asking for secrecy. He has asked them to apply for restriction orders in each situation, and will test any proclaimed risk of harm against the public interest of revealing what the undercover police have been up to. It is through this process that the police are now seeking secrecy and delays to the Inquiry.
The Inquiry into Undercover Policing has come about through the hard work of the people affected, activists, and a whistle blower. The police have fought at every turn in court, to avoid having to give any information publicly about their secret political policing units. They use NCND, and their applications for restriction orders, as a shield to avoid proper scrutiny of their actions, and to cover up the illegal and immoral activities of political undercover police officers.
Want to stand with the people affected by undercover policing and demand the truth about the activities of these abusive political policing units? Come to the demo, outside the Royal Courts of Justice, 9-10am on the 5th of April.
Find out more you can do to support the fight for truth around undercover policing.
Save
Briefing on "Neither confirm or deny" – a police tactic for secrecy