We have published a statement by the women and the support group: Where We Stand. Not only is this a clear stance on the issues which have been raised by this legal action but it's also a call for solidarity: we're inviting individuals and groups to sign up to the statement, and to spread the word.
You'll notice that there's a lot of new content on the website, including Act Now, a call to action.
Please share these pages as prolifically as you can; we are very grateful for your help.
There are some shocking new revelations coming out about the role of undercover police in the McLibel case – see here, and on Monday a new documentary is being broadcast –  Dispatches, Channel 4, Monday 8pm.
This week the government announced new proposals for the monitoring of undercover policing (see here), which didn't even mention the issue of relationships. Wow. For more info see this blog post by Bristling Badger.
A few weeks ago the Court of Appeal gave the legal team leave to appeal the decision over a secret tribunal which affects three of the eight women. The appeal is currently being prepared.
Also on the website you will find improved links and transcripts of the women's own words about their experiences: "Their stories are shared here not to elicit just your sympathy, but to increase your understanding; not to provoke interest in their personal details, but to request your solidarity. They have described what happened to them not to suggest that they are the only victims, but to ensure there are no more victims."
Thank you for your continued interest and support. It's a busy summer solstice…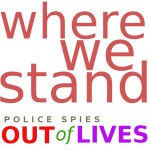 "We come from different backgrounds and have a range of political beliefs and interests, and we are united in believing that every woman, and every person, has a right to participate in the struggle for social and environmental justice, without fear of persecution, objectification, or interference in their lives. We welcome allies who wish to engage with the issues in this spirit of democratic empowerment." – Where We Stand
Where We Stand – plus McDonalds, Dispatches doc, and appeal against Secret Tribunal