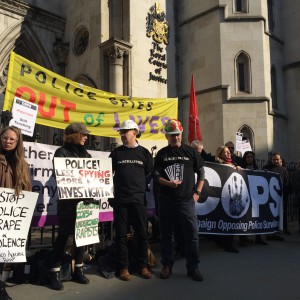 Sixteen months into the Public Inquiry into undercover policing, and a whole year after the Metropolitan Police apologised to some of the women who'd been deceived into relationships with undercover officers…
There has still been no disclosure about these human rights abuses. The police are doing their best to derail the Inquiry and obstruct the path to truth and justice.
Join us at a picket of the Home Office
Monday 21st November 2016
12-1pm
The Home Office: 2 Marsham Street, London SW1P 4DF
Nearest tubes: St James Park, Westminster or Pimlico
This is a Campaign opposing Police Surveillance (COPS) demonstration, that we are supporting. Time for the truth about undercover policing!
Help spread the word: Facebook event page
Can't get to the picket? Please show your support the picket on social media. Follow us @out_of_lives or Campaign Opposing Police Surveillance (COPS) @copscampaign or contact the Home Office directly to share your concerns with them.
Picket: Don't let the Police derail the Inquiry!