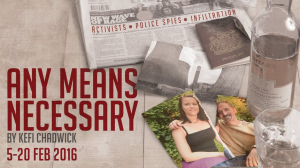 Any Means Necessary is a play by Kefi Chadwick based on the experiences of women who were deceived into relationships by undercover police officers. It is currently running at Nottingham Playhouse until February 20.
Helen Steel will be speaking about her personal experiences and the women's fight for justice at a pre-show talk on Thursday 11 February (free to ticket holders of any show), alongside John Hess and Bruce Kent.
Other talks during the run include: Donal O'Driscol of the Undercover Research Group, on Saturday 13 February, about ongoing exposures of officers and the public inquiry; and on Wednesday 17 February Kefi Chadwick will be speaking about the writing of the play, alongside Giles Croft, the director, and blogger and campaigner Merrick Badger.
Any Means Necessary: Show Talks