We are launching today a new online training pack called JUST SAY NO! aimed at undercover officers (UCOs), with appearances from Maxine Peake, Siobhan McSweeney, Tam Dean Burn and Danny Coonan.
Available at www.spycoptraining.co.uk the satirical resource has been produced in response to a series of Freedom of Information Act requests submitted by the campaign group asking police forces and the College of Policing for information about the training given to UCOs to avoid intimate, sexual relationships with members of the public.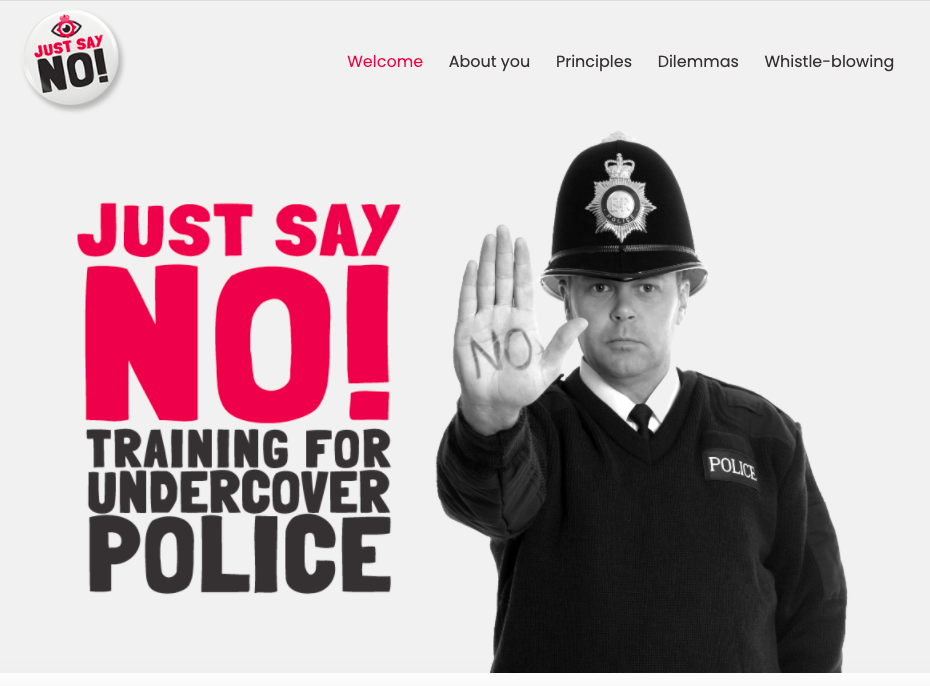 It was hoped that this would be an opportunity for the police to evidence their claim that they accepted historic wrong doing and were committed to ensuring such abusive deployments did not happen again. A campaign co-ordinator explained:

'We thought this might be an opportunity for the police to showcase examples of their improved training. We'd hoped to see case studies from our experiences and training content that illustrated a genuine attempt to ensure undercover police understood that relationships with members of the public were absolutely off limits.

Instead, we received a long explanation of why everything we'd asked for was covered either by an FOIA loophole to do with national security or would take too long to access, and from the Met police we received a small list of police forces who'd attended training on this subject over a four year period. That was it. No percentage of officers trained. No evidence of evaluations. No details about the content.'

The inadequate responses (which have been included in the resource) resulted in Police Spies Out of Lives deciding to fill the training gap.

The material includes short training videos from the perspective of women who have been deceived into intimate sexual relationships with undercover police. Themes explored include consent, privacy, institutional sexism and the right to protest.

The tongue-in-cheek approach to the subject is emphasised in the setting out of role play scenarios for UCOs and an interactive quiz, the outcomes of which include:
You are without any moral compass, should never have been recruited to the force and should be ejected immediately.
You are in possession of a live pulse but need to undertake further research, and listen again to the testimony of women affected.
You are ready to contact Police Spies Out of Lives to come clean.
Also included are short videos from ex-police whistle-blowers who urge any UCO who witnesses wrong doing to come forward.

Coinciding with this latest tranche of the public inquiry into undercover policing, we hope to raise public awareness of this policing scandal to ensure it is never allowed to happen again.

Despite its satirical tone, the training has a serious message for UCOs: when it comes to intimate, sexual relationships with members of the public – Just Say No!
New training for UCOs: JUST SAY NO!