"I was abused by an undercover police officer who was sent into my life, into my home, into my parents' home, and into my bed, by the Metropolitan Police."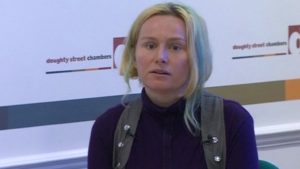 Kate Wilson, lifelong social and environmental activist, was deceived into a long-term, intimate relationship by an undercover police officer, Mark Kennedy. She won a Civil Claim against the police and is now taking legal action under human rights legislation. There will be an important hearing in the case on Wednesday 3rd October, with a support demonstration outside beforehand.
The relationship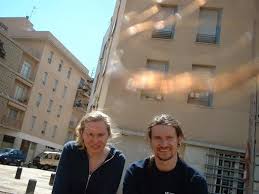 "I met Mark in 2003 at an open political meeting in Nottingham about mobilising against the G8. He was charming, and we seemed to share a lot of interests. Within about two weeks of that meeting we had started a romantic relationship. He moved into a house with me and some friends, and we lived together for over a year. He visited my parents on many occasions, and he attended my grandmother's ninetieth birthday. He was my partner in just about everything, for two years, and then we separated, but we remained close friends with him often visiting me right up until 2010."
In 2010, a friend rang Kate to tell her that Mark had been outed as an undercover officer. The effect this has had on her life has been shattering.
"The impact on your life and relationships is devastating. The psychological damage is deep and long lasting, because of the intrusiveness and the psychological violence of the tactics they use. It is not just the sexual relationships, but the intimacy, the emotional manipulation and the abuse of trust, which is completely inherent to any undercover policing operation. I think the impact of that could be seriously underestimated by anyone who has not been subjected to it."
Since 2010, Kate has discovered the infiltration was even greater than first suspected . For a period of twelve years, colleagues, house-mates, lovers and casual acquaintances have all turned out to have been undercover police, and all because of her dedication to making environmental and social change. These officers include confirmed undercover officers Jim Boyling ("Jim Sutton"), "Jason Bishop", "Marco Jacobs", "Lynn Watson", "Rod Richardson", and Mark Kennedy ("Mark Stone") as well as two men who visited, claiming to be "friends of Mark Stone", introducing themselves as "Vinny" and "Ed". Of course, there may be others whose identity is not yet known.
Background on Kates legal battle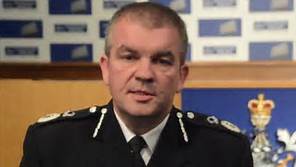 In 2015, the police withdrew their their defence against Kate's civil claims of deceit, assault/battery, misfeasance in public office and negligence, and in 2017 she became one of a growing number of women to receive an apology from the Metropolitan Police for relationships they had with undercover police. Assistant Commissioner Martin Hewitt, the Metropolitan Police finally conceded that "officers, acting undercover whilst seeking to infiltrate protest groups, entered into long-term intimate sexual relationships with women which were abusive, deceitful, manipulative and wrong" and that "these relationships were a violation of the women's human rights, an abuse of police power and caused significant trauma".
However, the police continue to lie, obfuscate and obstruct any attempt to gain access to reliable information about the extent of this abuse and the political motivations behind it, or of how far up the chain of command knowledge of these tactics went. Kate and other women are therefore still fighting for the truth, and Kate's claim has gone into the Human Rights Courts.
Human Rights Claim
Kate's human rights claim is being heard by the Investigatory Powers Tribunal, a judicial body, which hears complaints about surveillance by public bodies. She accuses the police of Human Rights violations that include inhumane and degrading treatment at the hands of Mark Kennedy and his supervisors; but which also include being a victim of sexist discrimination by police, and violations of her right to private life, and her political rights to freedom of association and expression, not only by Mark Kennedy, in his time as her partner, but also by at least seven other undercover officers, and by managers and commanding officers right up the chain, over a period of more than 12 years. She is claiming that the police violated her Human Rights under Articles 3, 8, 10, 11 and 14 of the European Convention of Human Rights.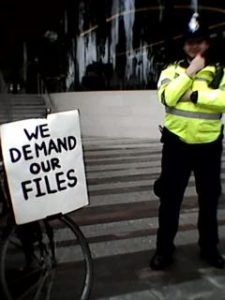 Ultimately, Kate is seeking the truth about what happened: "I want to see the files, I want them to fill in the gaps about all of those moments where I don't know what was really happening in my life. I naively believed that the courts could force the police to give us information about that, because the truth is the most important reparation. Instead, what's happened is that we've had the full might of the police legal department and huge amounts of public funds being dedicated to making sure we never get any any information at all"
Kate's claim deals with human rights violations that raise serious questions about the role of senior officers in sexual abuse. "I had a relationship with a man who didn't exist, but that was supported by a back room team, managers, and superior officers who were making the decisions about that relationship. There were support teams following him around on our holidays, and people listening to our phone calls, and reading our emails. Perhaps they were taking photographs of us together, or even listening to us when I believed we were alone. They knew every detail of my life. I still don't even know who they were; and it is not just me. These units have been systematically abusing women in this way since 1968"
And that amounts to institutional sexism, a fact the police are desperate to cover up.
Kate's claim questions the legitimacy of such political policing in a democratic society, and the legality of the Regulation of Investigatory Powers Act (RIPA) that is used to authorise such operations.
The case is still in its preliminary stages. The police initially tried to get the case held in secret, but have since been forced to make significant public admissions in their written defence. They were ordered by the court to release secret documents, but in the most part have simply failed to do so.
They are now trying to get the case closed down, saying that if they admit to certain parts of the claim they should not need to release any more evidence. On 3rd October the Tribunal will hear arguments about whether it should give in to this request to limit the hearings. This means the Tribunal would not examine the extent of senior officers' involvement in the abuse; it would not assess the lawfulness of the involvement of at least seven other undercover police officers in Kate's life; and it would ignore the issue of whether such intrusion violated the principle that human rights should be enjoyed by all, without discrimination on grounds of sex or political beliefs.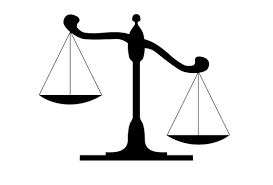 These are all extremely important issues, not only for Kate, but for society as a whole. The case comes at significant personal cost, and this gets worse the longer the Police try to obstruct it. "The police being unbelievably bullying in their response to our cases, and we have had to reveal huge amounts of deeply personal information to the courts and to the police and to the police solicitors. The whole process has been very damaging, constantly pouring salt in the wounds that were created when I found out that Mark in fact didn't exist."
Show your support for Kate by attending the hearing and/or the demonstration outside the court.
One woman's legal battle for the truth about human rights abuses