The Investigatory Powers Tribunal today handed down its ruling in Kate Wilson's epic ten-year legal battle over the use of undercover police against protest movements[i] The detailed, ground-breaking, 156-page ruling[ii] identified a "formidable list" of breaches of fundamental human rights by the Metropolitan Police without lawful justification in a democratic society[iii].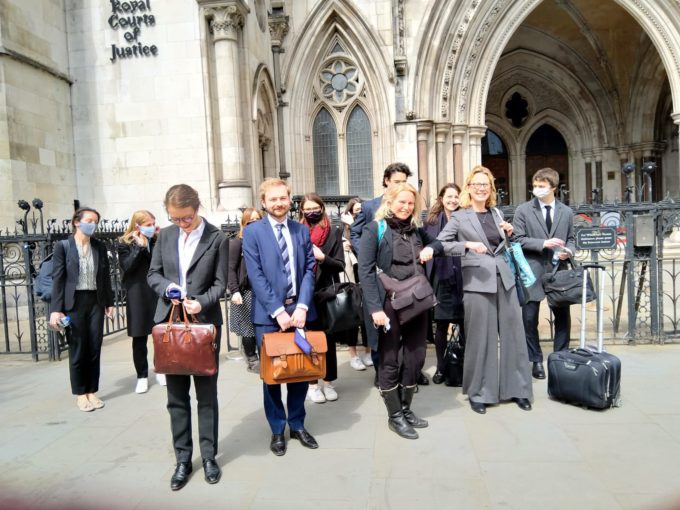 Sexist discrimination
The Tribunal looked at evidence relating to the sexual relationships UCO Mark Kennedy had with Ms Wilson and a number of other women, and at the widespread practice of undercover officers (UCOs) deceiving women into intimate relationships, concluding that the police violated her Article 3 right to live free from inhumane and degrading treatment, as well as her Article 8 right to private and family life, and that they were guilty of sexist discrimination in their handling of her human rights.
The findings stressed that the police failed to put in place systems, safeguards or protections: training of UCOs in relation to sexual relationships was grossly inadequate, and there was a widespread failure of supervision of Mark Kennedy in his undercover role. The Tribunal ruled that the failure to prevent undercover officers entering into sexual relationships primarily impacted women[iv], to the extent that it amounted to sexist discrimination under Article 14.
"Don't ask, don't tell"
The Tribunal noted that the evidence showed a disturbing lack of concern on the part of the police about the impact on women of introducing undercover officers into their lives, and the likelihood that those officers would seek to have sex. The ruling stressed that the sexual relationship Ms Wilson was deceived into by Mark Kennedy was conducted with the knowledge of his principal cover officer, and that his deployment manager[v], and other senior officers of Detective Chief Inspector (DCI) level and above knew (or chose not to know) about the sexual relationship, concluding that the National Public Order Policing Unit's approach to its officers having sex while undercover was one of "don't ask, don't tell".
Unlawful operations violated the right to protest

The ruling did not stop at the sexual relationships, as the Tribunal found that police took steps to interfere with Ms Wilson's political rights to hold opinions and with her Article 10 and 11 rights to freedom of expression and association; as well as violating her right to a private and family life.
The ruling stressed that the police had failed to give any proper consideration or put structures in place to limit collateral intrusion into the private lives of Ms Wilson or anyone else coming into contact with the operations. They described the breadth and open-ended quality of the authorisations for Mark Kennedy's operation, which were virtually meaningless as any kind of protection, calling the operation a "fishing expedition" against legitimate groups who were exercising political rights enshrined in the European Convention on Human Rights.
"disturbing and lamentable failings at the most fundamental levels."
The judgment also criticised the Metropolitan Police conduct of the case, stating that many contemporaneous documents "crie[d] out for an explanation", and that there was "no reason that we can see why we were not provided with a statement from a witness with direct knowledge of these matters". The factual evidence provided by the police was deemed "unsatisfactory", and the ruling noted that, were it not for Ms Wilson's tenacity and perseverance, "much of what this case has revealed would not have come to light".
The ruling concludes:
"This is a formidable list of Convention violations, the severity of which is underscored in particular by the violations of Arts 3 and 14. This is not just a case about a renegade police officer who took advantage of his undercover deployment to indulge his sexual proclivities, serious though this aspect of the case unquestionably is. Our findings that the authorisations under RIPA were fatally flawed and the undercover operation could not be justified as "necessary in a democratic society", as required by the ECHR, reveal disturbing and lamentable failings at the most fundamental levels."
Ms Wilson commented
"This has been a long and emotional journey, and I am happy to receive this ruling today. The events in my case happened years ago, however the failure of the police to protect women from sexual predators within their own ranks, and police attempts to criminalise protestors are both still very live issues today. The Tribunal has gone some way towards recognising how deep the abuses run. We need to tackle the misogyny and institutional sexism of the police and there needs to be a fundamental rethink of the powers they are given for the policing of demonstrations and the surveillance of those who take part."
Harriet Wistrich, Director of the Centre for Women's Justice who acted as a lawyer for Ms Wilson in the early stages and as a witness in the case commented:


"This excoriating judgement could not have come at a more significant moment when we hear the details of the horrendous murder of Sarah Everard by a serving Met police officer who used deceit with the opportunities of his job to entrap her. What is it going to take to transform the culture of policing so that resources are used to protect women from abuse from violence, not to abuse them?"
---
[i]The case was part of a marathon 10 year battle for justice by Ms Wilson and other women, following revelations that they had been deceived into relationships by undercover police. Having exhausted other routes, she took her fight for answers to the Investigatory Powers Tribunal. This is a secretive court set up to examine human rights abuses by state agencies carrying out surveillance. It's rules are quite different from open court and it has the ability to exclude claimants from taking part in proceedings. Despite the restrictions, Ms Wilson was able to secure significant disclosure which throws a rare spotlight on the undercover policing units.
[ii]See full judgment here.
See Freshfields Bruckhaus Deringer's summary blog here
[iii]The police had already admitted a number of violations including breaches of Articles 3 (degrading and inhumane treatment) and Article 8 (private and family life) and Article 10 (freedom of expression) as a result of being deceived into relationship by undercover police officer Mark Kennedy. However, Ms Wilson's case went further, arguing, among other issues, that 5 other undercover operations had interfered with her rights to privacy, free speech and assembly (Article 8 and Articles 10 and 11 of the European Convention on Human Rights, often combined as 'the right to protest'); and that the systematic use of sexual relationships with women by male undercover officers amounted to sexist discrimination under Article 14. The IPT ruled in her favour on all these points.
[iv]By reason of (a) the numbers of women affected and (b) the greater adverse impact on women's lives through either risk of pregnancy or interference with their child-bearing years.
[v]Known only as "Detective Chief Inspector O-24" throughout the proceedings
BREAKING NEWS – Court rules undercover policing operation against protest movements were 'unlawful and sexist'