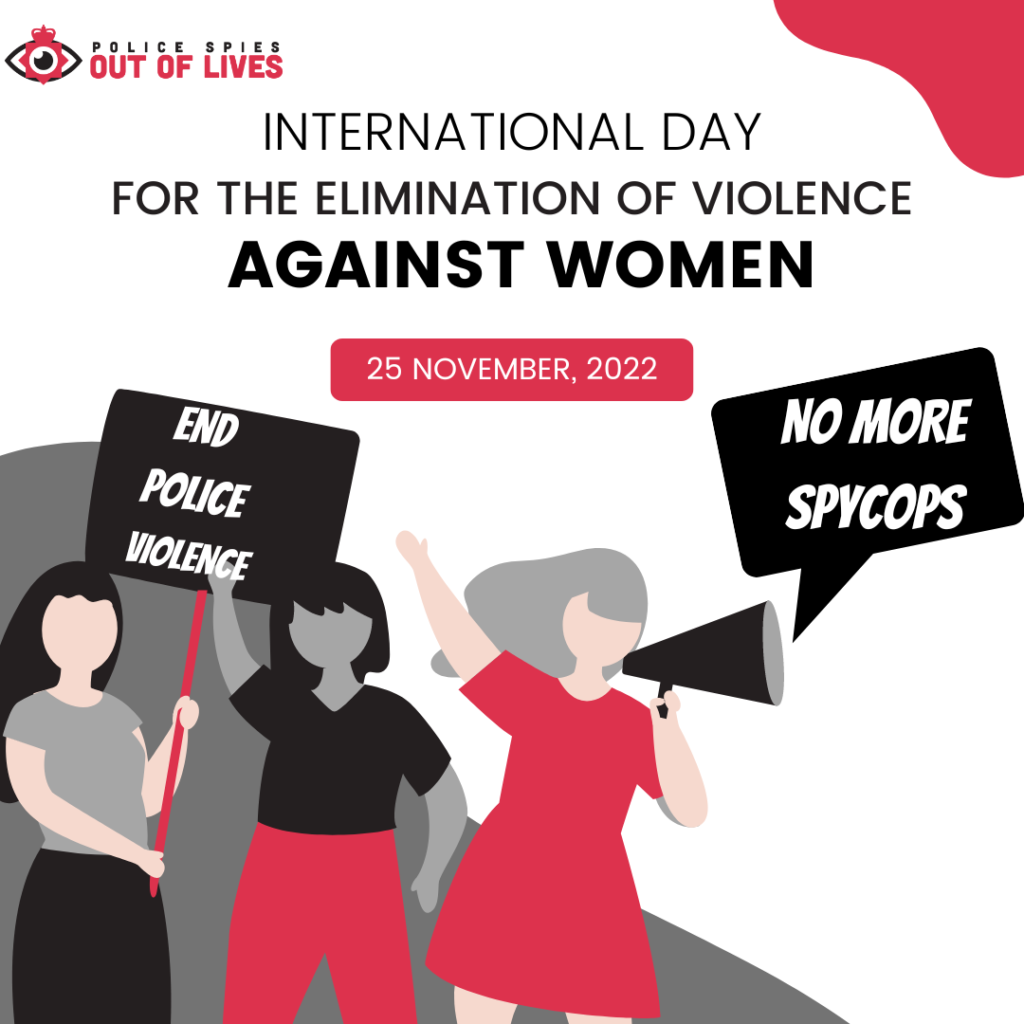 Women. We're half the world's population and we're still not free. Even the most privileged of us.
We're not free from male violence. We're not free from objectification and commodification. And we're not free from systemic misogyny and sexism in the very institutions that are supposed to protect us. That's why Police Spies Out of Lives is supporting the 16 Days of Activism to End Violence Against Women and Girls.
A recent storyline in the popular soap Hollyoaks follows 'Maxine', a young woman on a night out. Her journey home alone is fraught with male threat and culminates in her being attacked. Every woman can identify with Maxine's plight; we've all put our keys through our fingers as a potential weapon and know the fear of sensing a man behind us as we walk home. Our DNA is attuned to potential danger from men.
We are told, from young children, we should trust the police; they are there to protect us. Yet the litany of appalling accounts of police violence against women reflects the misogyny at the heart of the institution.
We've been calling this out since our first cases were launched in 2011. The state sponsored spycops, sent into political groups to monitor their activities, treated women as commodities. Like props to support their fake identities, vessels for their sexual gratification, and information sources to be exploited.
The psychological harm inflicted was the consequence of both individual and institutional sexism and misogyny. The Met Commissioner in his apology to the first eight women, said 'I entirely agree that it was a gross violation and also accept that it may well have reflected attitudes towards women that should have no part in the culture of the Metropolitan Police.'
This apology was made seven years ago. Yet today there is even more evidence of their 'attitudes towards women'. The police WhatsApp groups have shown that sexist, racist 'banter' is commonplace. The Met is rotten to the core.
But it's not just the Met. A sexist culture dominates society where many of us have become desensitised and unshockable about the levels and extent of violence against women and girls.
The culture, the society and the law must change. Yet instead of introducing new legislation to protect women, the opposite is happening.
The law on consent and sex by deception is not fit for purpose. We were told by the Crown Prosecution Service we didn't have a case against the undercover officers who deceived us into sexual relationships because 'genuine feelings' were involved. The truth is we did not consent. However, recent government legislation has ignored this reality and doubled down, denying women's rights and reasserting the power of state bodies.
The Covert Human Intelligence (CHIS) Act, introduced and passed quickly during Covid, puts no limits on what may be authorised for undercover officers or informers. Outlawing rape, torture, and murder, they say, would make it possible for operatives in the field to be outed by the criminals they're infiltrating. Those who helped pass the legislation say the Human Rights Act will protects us against this potential harm. Kate Wilson's case has vividly illustrated this is not true.
The government's latest tool to protect state interests at the expense of women's rights, is proposed legislation to replace the Human Rights Act with a Bill of Rights, or as many of us call it, The Rights Removal Bill. The to-do list of legislative reform is stacking up fast.
We will continue our fight for truth and justice, and are proud to stand with EVAW and other partners to amplify the message of these 16 Days of Activism. Please share our social media posts to raise awareness of the scale of state sponsored sexism and help to end all violence against women and girls.
16 Days of Activism: End Violence Against Women & Girls