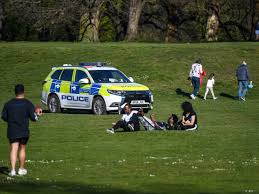 For women like us who discovered our ex-partners were Metropolitan police officers rather than politically motivated activists, this is not the first time our ordinary lives have slipped into the twilight zone. The main difference this time as we struggle through a global pandemic is that we're not on our own. All our lives have shifted into a new and surreal dimension, and the previously invisible state machine is coming clearly into view.
Before our world became altered by coronavirus, Police Spies Out of Lives (PSOOL) was continuing its work supporting women deceived into intimate, sexual relationships by undercover police officers and campaigning to bring to public attention the extent of this state-sponsored abuse.
There are now known to be more than thirty women affected by these deployments across five decades. As well as supporting many through ongoing legal proceedings, involving intrusive psychological assessments, deeply personal testimony and tedious searches for evidence of lost earnings, PSOOL has campaigned with the women to hold the state to account.
This includes supporting Jessica in her mission to expose the lies of Andy Coles: the Conservative councillor in Peterborough who stood down as Cambridgeshire's Deputy Police and Crime Commissioner when the story of his undercover abuse was made public. The same man was responsible for writing the 'Tradecraft Manual' used by these units to instruct officers how to infiltrate target groups successfully. His advice was to ensure sexual relationships should be 'fleeting and disastrous'.
Andy Coles was coming up for re-election in May this year. On 13th March – the day after the government moved from 'contain' to 'delay' stage in response to the coronavirus outbreak – it was announced these local elections were postponed. He will continue in post unopposed.
On March 17th the Public Inquiry into Undercover Policing (established in 2015 and yet to hear any evidence) announced the first tranche of hearings due to take place in June would also be postponed. Another cruel blow for those of us who have been waiting many years for answers.
This latest delay could, however, be used to the benefit of both the core participants and to the long term integrity of the inquiry. Since the outset, core participants have argued for the importance of the chair being supported by a panel of advisors with specific expertise in issues relating to institutional prejudice and discrimination. Our calls have been repeatedly rejected by successive Home Secretaries. One reason being it can take up to between six to nine months for panel members to be security vetted and would have caused further delays.
The delay caused by coronavirus, however, is exceptional. The government has introduced unprecedented regulations and normal rules do not apply. In these circumstances, the inquiry should seize the opportunity to use this time to start a conversation with core participants about establishing a new timeline for appointing panel members. The inquiry chair Sir John Mitting is seventy-two years old. A similar age to most of the core participants and ex-police officers expected to provide evidence in the first tranche of hearings which cover activities from 1968 to 1982. All these people are in the category classified 'vulnerable'. The inquiry has a responsibility to ensure that despite delays due to coronavirus, core participants who are vulnerable are prioritised and given disclosure immediately. It also has a responsibility to establish a succession plan for the inquiry moving forward.
So with a pandemic wreaking havoc and an unprecedented national emergency, what better time to bury bad news?
On March 18th the Independent Office for Police Conduct (IOPC) released a statement that it had found documents relevant to the public inquiry had been destroyed by Met officers despite an instruction that they had to be preserved.
We are appalled but unsurprised.
The Met was alerted to the shredding allegations by a member of its staff in December 2014. However, the force did not draw the allegations to the attention of the watchdog until May 2016.
Why it has taken four years to draw this conclusion and why release these findings now? The files should have been requisitioned by the Inquiry years ago. Why would we trust the perpetrators to safeguard the very evidence that incriminates them?The unit responsible for the shredding – the national domestic extremism and disorder intelligence unit (NDEDIU) – is yet another incarnation of the same undercover squad that believes itself to be above the law, following in the footsteps of their predecessors in the SDS and NPOIU.
These units have perpetrated a panoply of abuse against many different people since 1968. As well as the institutionalised sexism illustrated by our cases, the deployments also highlight the institutionalised racism still deep within the Met. Spying on the family of Steven Lawrence being the most notorious example. Construction workers have been blacklisted as a result of this spying and the parents of deceased children have learned their loved ones' identities were stolen to shore up officers' fake personae.
Our collective campaigns have the shared aim of shedding light on these discriminatory, unlawful practices to ensure they are never allowed to happen again. Our experiences illustrate the impact on lives of ordinary people when police powers are abused and institutional prejudice goes unchecked. We have witnessed first-hand the Met police's obsession with secrecy and endemic corruption. They will try anything they can get away with to avoid public scrutiny.
During this strange period of national crisis our campaign aims have never been more important. On 26th March, to reduce the spread of coronavirus , the government brought in new public health regulations strengthening police enforcement powers in England. The police state that has been working behind covert practices for decades is becoming more visible. As their powers increase, their practice must be scrutinised.
We're used to the state blocking avenues to truth and justice. We're used to its delaying tactics. And we're used to its corruption. The coronavirus epidemic has provided state players with a new weapon. Another excuse to delay and postpone.
The playing field is uneven but we have a strong team. We might not all survive but those of us who do will keep pushing forward, whatever obstacles they try to put in our way.
THE INCREASING VISIBILITY OF BRITAIN'S POLICE STATE