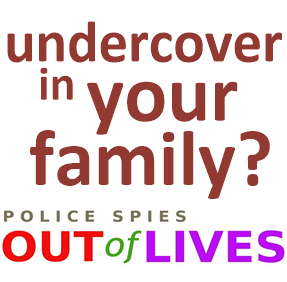 Send your MP and Police Commissioner a Christmas Card to remind them to act on the Undercover Policing scandal.
With Christmas time coming, we want to keep it in the mind of our elected representatives, that the Undercover Policing Scandal has involved unacceptable intrusion into people's personal lives, and that this political policing has no place in our democracy.
We want everyone to write to their MP and their Police and Crime Commissioner, to ask them what they are doing about this issue. We have written a text for you to send them, which invites them to think about this issue as they sit down to Christmas Dinner, and to think about what they would do if it was their family who was affected in this way.
INSTRUCTIONS
To send a Christmas Card by post:
Down load the Xmas card Text & print it out twice.
Find out the name and address of your MP and Police and Crime Commisioner
Write your name and address in the top right of the print-outs, as if you are writing a letter, and then address one  letter to your MP and one to your Police and Crime Commissioner. Sign both of them
Stick the letter into a Christmas card & post it.
Tell your friends and family to do the same!
For further information on these issues:
> Where we stand statement
> Our stories
> Inquiry
Save