Tom was one of the three people in the South Wales Case that challenged the Metropolitan Police Force, South Wales Police force, and the Association of Chief Police Officers over the effect of Marco Jacobs' intrusion in their lives and the distress it has caused.
This is an article that Tom wrote with his fellow activists at the time that Jacobs was revealed to be an undercover officer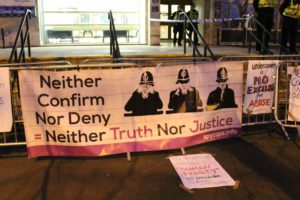 Marco worked on us (not with us) for four years. He developed strong personal relationships and some of us feel an enormous personal betrayal. He also deliberately and systematically set out to damage a movement, and we think it is important that knowledge of what he did, and how he did it, is shared and discussed as widely as possible.
Damaging the structure of CAN (Cardiff Anarchist Network) was undoubtedly a key objective. He changed the culture of the organisation, encouraging a lot of drinking, gossip and back-stabbing, and trivialised and ran down any attempt made by anyone in the group to achieve objectives. He clearly aimed to separate and isolate certain people from the group and from each other, and subtly exaggerated political and personal differences, telling lies to both 'sides' to create distrust and ill-feeling. In the four years he was in Cardiff a strong, cohesive and active group had all-but disintegrated. Marco left after anarchist meetings in the city stopped being held.
Reading this, you'd be forgiven for wondering why the hell it took us so long to suss him out, and why we weren't more sceptical and less trusting. Marco had no obviously apparent life outside activism. We never met his family or his supposed mates who shared his passion for rock music, although he would at times claim to be away at gigs out of town. He told us he had no wife and/or kids. His house was fairly spartan and his job as a truck driver also allowed him an excuse to be away for prolonged periods without arousing suspicion. Also, despite a stated desire to be 'where the action was' he was very reluctant to get his hands dirty by being an active part of direct action or confrontation with the police. These things all together should have been enough to at least get us asking questions.
We may well have been a bit naive, particularly in assuming that we weren't important enough to be infiltrated. The man we knew as Marco was very good at deflecting suspicions. He was likeable, personally supportive, funny and very useful to have around. He was, like Mark Kennedy, a driver. He took minutes, wrote, edited and distributed newsletters, made banners, and went to the boring meetings no one else could be bothered with. He was able to exploit people's vulnerabilities to either get close to them, or make them feel isolated and excluded. He was a very good manipulator.
All of us who were involved with Mark Jacobs are reeling with anger, resentment and guilt. Our failure to see through his charade caused great harm to people both here in Cardiff and across Europe. We are aware that Marco was not the only cop operating, and that the fault, particularly on a European scale, is not all ours. But still, we feel a collective responsibility and sense of failure over our part in this.
Having said all that, we need to look forward, and it is important to learn the right lessons from what has happened. We feel strongly that it is important that the movement does not succumb to paranoia and suspicion. Marco worked hard to sow distrust, dislike and suspicion amongst us, and allowing him to do that was perhaps our biggest mistake.
We also feel that it is a mistake to paint ourselves as powerless in a situation like this, or to seek sympathy in the media as the victims of an unfair and all-powerful state. We can see how this might be tempting for propaganda reasons, or to win the support of mainstream politicians or the liberal press, but it is ultimately a disempowering act. The actions of the police and the UK state in this affair are disgusting, but not surprising. We, as a group and as a movement, were infiltrated and abused because we took, and encouraged others to take, militant action against a string of colossal injustices. Simply put, we took a determined stand against what we saw as wrong, and every time we were proven right. On the abhorrent war in Iraq; the corrupt and immoral arms trade; the injustices meted out in our names by the G8; and the scandals of man-made climate change, we stand by the rightness of our actions. We reject the authority of the state to tell us how, when and where to make our resistance, and we encourage further struggle and dissent.
They come at us because we are strong, not because we are weak.
More about Tom

November 2013 – Tom spoke to Good Morning Wales.
May 25 2017 – After a court hearing, we issued this blog post about the South Wales case.
If you quote any of the above accounts, for articles, blogs, or academic research, please let us know. Please respect that while these words appear in the public domain, they belong to people who have had their private lives profoundly abused. Thank you.